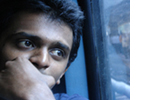 Yes thats me in the picture.. At times you can find me thinking like this. And when i am not lost in thoughts you can find me communicating with people around.
I love to talk ( My friends can vouch for that :) )...apart from talking here is a brief about what i have done:
As a Young Student in school I was inclined towards Science. At my first encounter with a computer I had an intuitive connection with the machine. And from there, there was no looking back....I entered Engineering School for my graduation in Computer Science....As I delved in programming and networking I took to freelancing and contributed in making college websites and in many such events...During the final phase of graduation I did a project for BSNL. I stepped into the industry as a UI designer and a Software Tester at MAQ Software...as I handled a dual profile I learnt a lot of new things...it strengthened my interest towards Interfaces and Design...After working for around a year I got selected at the prestigious National Institute of Design where I pursued my Post Graduation in Design...here I got a broader perspective of design...Completing my design education I did a thesis on Gesture based interactions with HP labs... Defending my jury successfully at NID I graduated as a Young Designer specializing in Software and User Interface...After NID with an eagerness to learn and take new challenges I tried some freelancing...worked with some professors.......finally took up a job at
Illumine Knowledge Resources where I worked as a User Experience Designer...here I was involved in startup product to help students evolve in their careers...Moving on from there I joined Opera Software as an interaction designer, the multi-device interaction possibility was my key motivator there. After Opera India operations closed down...I moved on to IBM where i was a part of the core Enterprise UX team for intranet and internet portals since July 2010. Taking the role of Information Architecture..These days i am creating experiences in the aerospace domain with Honeywell....I am always open to take up new challenges and explore opportunities to expose myself to varied design paradigms...